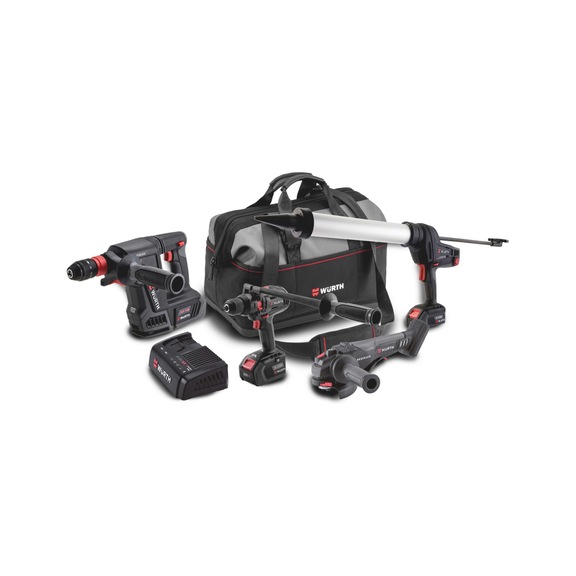 Cordless machines set M-CUBE 18 volt 8 pieces
M-CUBE QUAD PACKAGE
Prices for customers after login
Exclusively for registered customers
Register now and access more than 20,000 products
Call customer service: 1300 65 77 65
| | |
| --- | --- |
| Number of pieces in assortment/set | 9 PCS |
1 x
TLBG-PLABTM-440X250X340MM
Description:

Robust bag with one-piece zip and waterproof bottom shell made of plastic.
1 x
ANGLGRIND-CORDL-(AWS 18-125P COMPT)-CRTN
MASTER M-CUBE
Description:

Compact, powerful, brushless cordless angle grinder for medium-heavy roughing and cutting work
1 x
HAMDRL-CORDL-(ABH 18 COMPACT)-CARTON
MASTER M-CUBE
Description:

Compact, powerful, brushless cordless hammer drill for medium-heavy drilling and light chiselling work
1 x
IMPDRLDRIV-(ABS 18 POWER COMBI)-BOX
MASTER M-CUBE
Description:

Very powerful, handy cordless impact drill driver with selectable impact drill mode and a torque of 140 Nm
1 x
APPLGUN-CORDL-(AKP 18-600)-CARTON
MASTER M-CUBE
Description:

Powerful 18 V application gun developed by Würth to meet the needs of tradespeople.
3 x
BTRYPCK-(18V/5.0AH-(M-CUBE)-BASIC)
MASTER M-CUBE ZUBEHÖR
Description:

Compact, powerful and long-lasting 18-volt Li-ion battery for professional and universal use with the new Würth cordless tools
1 x
CHRG-(ALG 18/6 FAST)-PLG/I
MASTER
Description:

For charging Li-ion 18V M-CUBE BASIC batteries
Packaging unit
The packaging unit defines the number of articles in one packaging. In the catalog segment you can choose from different packaging units if a pop-up menu is displayed.
Just leave the field empty if you don't know the packaging unit when directly entering the article number in the shopping basket or when importing with Easy-/VarioScan. The packaging unit will be determined automatically.
Structure of our article number
The article number is made up of the following: VVVVAAABBB
VVVV = 4 digits for prefix number (please note that the first digit is currently always 0)
AAA = 3 digits for dimension part 1
BBB = 3 digits for dimension part 2
Example article number structures:
Example 1: Screw with dimensions of 4x10 mm:
VVVVAAABBB
00574 10 (2 spaces between the 4 and the 10)
Example 2: Screw with dimensions of 10x20 mm:
VVVVAAABBB
005710 20 (1 space between the 10 and the 20)
Example 3: Flat washer with an internal diameter of 6 mm:
VVVVAAABBB
04076
Information on price display
Price per packaging unit (PU):
The displayed price is always in line with the displayed packaging, if the PU is 250 the price for 250 units, if the PU is 300 the price for 300 units.
Price with price key representation (PSL):
The price always applies to a quantity ruled through the price key:
Price for 1 unit
Price for 100 units
Price for 1000 units
Quantity
The quantity shows the number of pieces or units of measure contained in the order or delivery for the respective article.
In contrast to sales packaging and secondary packaging, the disposal costs for chemical-technical products are shown separately. The breakdown of the individual costs can be found on the relevant products and also in the shopping cart, as well as in our
General Terms and Conditions (GTC)
.
Art.-no.
Plus disposal costs -,-- per selected packing unit
Cust. Mat. No.