ASSY®plus A2 Decking construction screw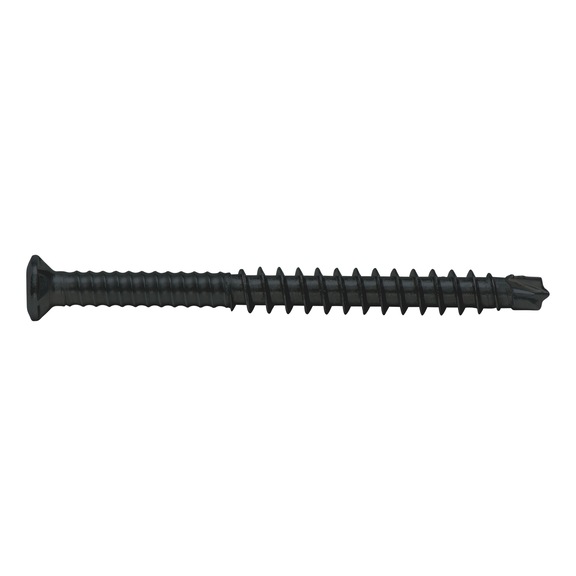 For detailed information, other images and documents, please select individual articles from the following table.
ASSY®plus A2 Decking construction screw
For precise fastening of decking boards. Many types of wood can be processed without pre-drilling thanks to the drill tip.
Exclusively for registered customers
Register now and access more than 20,000 products
Call customer service: 1300 65 77 65
Exclusively for registered customers
Register now and access more than 20,000 products
Call customer service: 1300 65 77 65
Prices for customers after login
Black Zinc Plating
Provides a less visible appearance
Precise positioning and no splitting
Precise positioning of the screw is no problem at all thanks to its centring drilling tip, which was specially designed for this purpose. The drilling cutting edges guarantee perfect drilling performance, just like a Forstner bit. They also prevent irritating splitting or rupturing of the wood.
Clean and easy countersinking
Countersinking the small countersunk head is clean and easy, thanks to its small diameter. The under-head milling pockets pick up protruding chips. However, with tropical hardwood, countersinking of the surface is recommended, as these types of wood have very short chips.
Extremely robust
The grooved shaft provides for additional screw strength as austenitic stainless steel (A2/A4) cannot be hardened. This virtually eliminates the possibility of the screw tearing off.
AW drive for optimum locating and power transfer
The AW drive guarantees an excellent fit of the bit in the screw drive. This prevents wobbling impacts and sliding of the bit from the screw while screwing in.
Notice
Screwing down hardwood patio boards
Preliminary tests are required for hardwood. Pre-drilling of the wood may be necessary depending on the density and moisture level of the wood. It is recommended that the processing device be operated at a low speed.
When using these screws, the ETA-11/0190 specifications must be observed.
Application area
The range of applications of the various stainless steels is contained in the following ISER (German Information Office for Rustproof Stainless Steel, Non-Rusting Steels for Various Environmental Conditions, www.edelstahl-rostfrei.de, Information Sheet 828) table. Rustproof stainless steels (e.g. material no. 1.4016) are recommended there for use in atmospheric processes only for use in a rural environment, and here as well only with great restrictions. We therefore recommend only using austenitic stainless steels for outdoor applications, taking the environmental conditions into account. Stainless steel A4 is especially suitable for use in an industrial atmosphere and for use near the sea.
Select RAL-colour code
!! NOTE: On-screen visualisation of the colour differs from real colour shade!!