Anti-flutter flexible urethane foam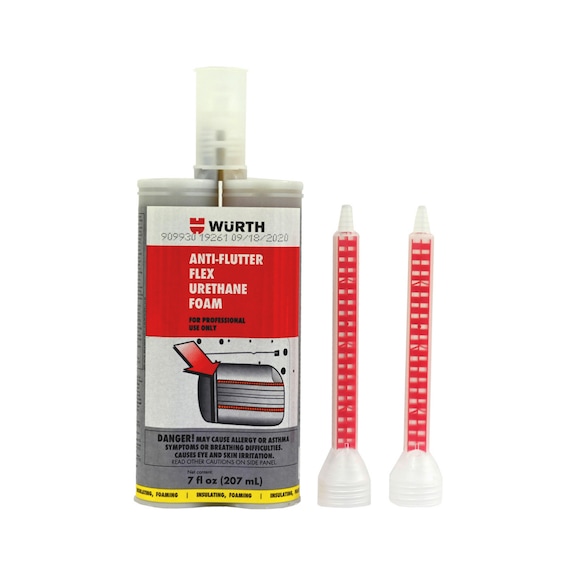 For detailed information, other images and documents, please select individual articles from the following table.
Anti-flutter flexible urethane foam
Two component urethane system formulated to fill voids and duplicate OEM foams without warping panels. It bonds to most common automotive substrates including painted and unpainted metals, MC, FRP and other rigid or flexible plastics.
Chemical basis: Urethane acrylate
Colour: Black
Min. tensile strength: 0 N/mm²
Working life: 1 min
Conditions for working life: at 20°C room temperature, double cartridge with static mixing tube and pneumatic gun
Curing time: 2 min
Max. short-term temperature resistance: 180 °C
Max. final strength: 0 s

Conditions for final strength: at 20°C
Shelf life from production: 12 Month
Contents: 7 fl.oz
Exclusively for registered customers
Register now and access more than 15,000 products
Call customer service: 1300 65 77 65
Variants
Packaging unit
The packaging unit defines the number of articles in one packaging. In the catalog segment you can choose from different packaging units if a pop-up menu is displayed.
Just leave the field empty if you don't know the packaging unit when directly entering the article number in the shopping basket or when importing with Easy-/VarioScan. The packaging unit will be determined automatically.
Structure of our article number
The article number is made up of the following: VVVVAAABBB
VVVV = 4 digits for prefix number (please note that the first digit is currently always 0)
AAA = 3 digits for dimension part 1
BBB = 3 digits for dimension part 2
Example article number structures:
Example 1: Screw with dimensions of 4x10 mm:
VVVVAAABBB
00574 10 (2 spaces between the 4 and the 10)
Example 2: Screw with dimensions of 10x20 mm:
VVVVAAABBB
005710 20 (1 space between the 10 and the 20)
Example 3: Flat washer with an internal diameter of 6 mm:
VVVVAAABBB
04076
Information on price display
Price per packaging unit (PU):
The displayed price is always in line with the displayed packaging, if the PU is 250 the price for 250 units, if the PU is 300 the price for 300 units.
Price with price key representation (PSL):
The price always applies to a quantity ruled through the price key:
Price for 1 unit
Price for 100 units
Price for 1000 units
Quantity
The quantity shows the number of pieces or units of measure contained in the order or delivery for the respective article.
In contrast to sales packaging and secondary packaging, the disposal costs for chemical-technical products are shown separately. The breakdown of the individual costs can be found on the relevant products and also in the shopping cart, as well as in our
General Terms and Conditions (GTC)
.
Art.-no.
Plus disposal costs -,-- per selected packing unit
Cust. Mat. No.
Exclusively for registered customers
Register now and access more than 15,000 products
Call customer service: 1300 65 77 65
Prices for customers after login
Hood X frame anti-flutter


Fill collapsed hollow weather-strips


Rapid expansion time - 30 seconds


Expands 10 times its liquid state


Resilient, expands & contracts as needed to absorb sound & prevent flutter


Duplicates OEM foams in texture and color


Excellent sound dampening qualities


Does not require moisture to cure


Will not distort panels


Fast cure


Resists shrinking


Bonds to most substrates


No VOC


Country of origin: Canada
Notice
Includes 2 turbo mixers


Store in cool, dry place
Application area
It effectively restores sound deadening properties while eliminating flutter in panels under hoods, roofs, door panels, trunk lid frame anti-flutter and other problem areas.
Select RAL-colour code
!! NOTE: On-screen visualisation of the colour differs from real colour shade!!