Foodstuffs lubricating oil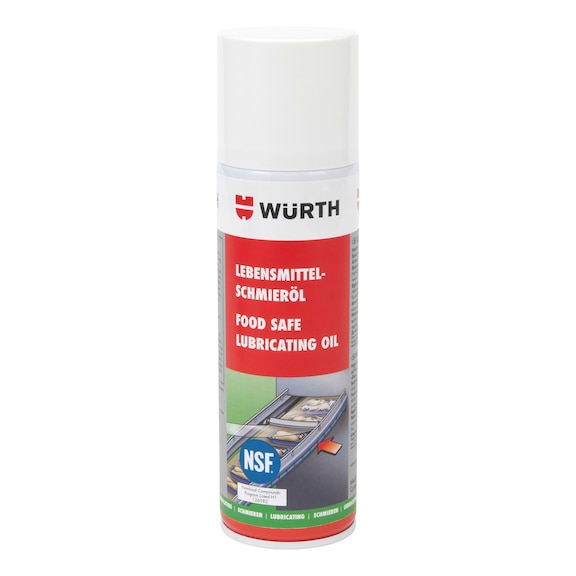 For detailed information, other images and documents, please select individual articles from the following table.
Foodstuffs lubricating oil
Colourless special lubricant with creeping properties for the food industry as well as for the beverage, pharmaceutical and clinical industries
Exclusively for registered customers
Register now and access more than 20,000 products
Call customer service: 1300 65 77 65


Exclusively for registered customers
Register now and access more than 20,000 products
Call customer service: 1300 65 77 65
Prices for customers after login
Low-viscosity and colourless special lubricant with creeping properties
Excellent lubricating properties in hard-to-reach areas thanks to low viscosity


Excellent creeping and cleaning effect ensures optimum protection of machines and conveyor areas exposed to water


Economical


No visual impairment with occasional contact between the lubricant and product
Tasteless and odourless


Good material compatibility on various surfaces such as aluminium, stainless steel, plastics compatible with mineral oil e.g. PP, PE, PS, nylon, polycarbonate glass, epoxy glass fabric-base plastics, sealing rings.


Displaces water


Optimum anti-corrosion properties


Resin- and acid-free


Resistant to ageing


Silicone and AOX-free


In this context, the product may come into occasional contact with food


Does not harm skin and mucosa


Non-toxic
NSF H1-registered (no.: 126582), corresponds to H1 requirements


Approved by the LGA (Bavarian State Office of Commerce, Nuremberg, Germany)
The usage instructions are recommendations based on the tests we have conducted and our experience; carry out your own tests before each application. Due to the large number of applications and storage and processing conditions, we do not assume any liability for a specific application result. Insofar as our free customer service provides technical information or acts as an advisory service, no responsibility is assumed by this service except where the advice or information given falls within the scope of our specified, contractually agreed service or the advisor was acting deliberately. We guarantee consistent quality of our products. We reserve the right to make technical changes and further develop products.
Application area
For liquid lubrication of valve gaskets, sleeves, O-rings, drives, piston rods and guides on slide dampers, hinge band and roller chains as well as mechanisms in the food and beverage industry. For lubricating cutting blades in the paper industry as well as needles and hooks on knitting machines. Versatile use in manufacturing, application and packaging of foodstuffs as well as of pharmaceutical and cosmetic products. Lubricating effect is even maintained for machines and conveyors exposed to water. Ideal for use as release agent in the food and beverage industries.
Instructions
Clean and degrease the parts to be lubricated. Then spray a thin coat.
Select RAL-colour code
!! NOTE: On-screen visualisation of the colour differs from real colour shade!!