HHS® adhesive lubricant 5000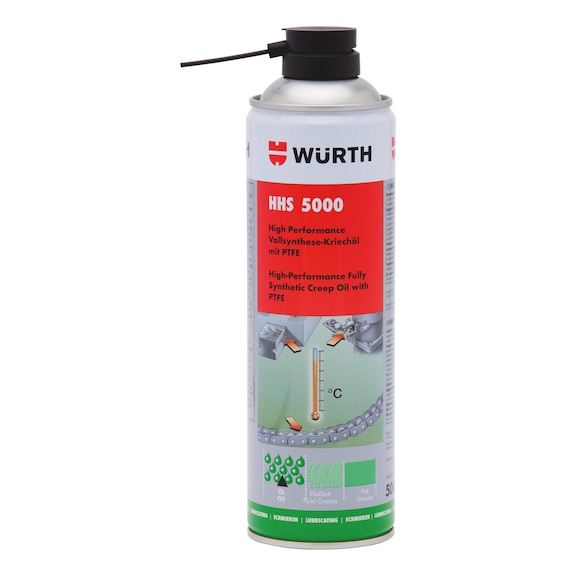 For detailed information, other images and documents, please select individual articles from the following table.
HHS® adhesive lubricant 5000
Extremely temperature-resistant, fully synthetic penetrating oil with PTFE
Chemical basis: Mineral oil
Oil basis: Synthetic hydrocarbons
Colour: Transparent
Smell/fragrance: Characteristic
Density: 0.86 g/cm³
Min. temperature conditions: -20 °C
Max. temperature conditions: 200 °C
Min. flashing point: 240 °C

Flashing point conditions: in accordance with DIN ISO 3016
Silicone-free: Yes
Acid-free: Yes
Resin-free: Yes
AOX-free: Yes
Resistance against: Water, Salt water, Acid, Lye
Material compatibility: Steel, Non-ferrous metals, Stainless steel, FKM
Contents: 500 ml
Container: Aerosol can
Shelf life from production: 24 Month
Exclusively for registered customers
Register now and access more than 15,000 products
Call customer service: 1300 65 77 65
Variants
Packaging unit
The packaging unit defines the number of articles in one packaging. In the catalog segment you can choose from different packaging units if a pop-up menu is displayed.
Just leave the field empty if you don't know the packaging unit when directly entering the article number in the shopping basket or when importing with Easy-/VarioScan. The packaging unit will be determined automatically.
Structure of our article number
The article number is made up of the following: VVVVAAABBB
VVVV = 4 digits for prefix number (please note that the first digit is currently always 0)
AAA = 3 digits for dimension part 1
BBB = 3 digits for dimension part 2
Example article number structures:
Example 1: Screw with dimensions of 4x10 mm:
VVVVAAABBB
00574 10 (2 spaces between the 4 and the 10)
Example 2: Screw with dimensions of 10x20 mm:
VVVVAAABBB
005710 20 (1 space between the 10 and the 20)
Example 3: Flat washer with an internal diameter of 6 mm:
VVVVAAABBB
04076
Information on price display
Price per packaging unit (PU):
The displayed price is always in line with the displayed packaging, if the PU is 250 the price for 250 units, if the PU is 300 the price for 300 units.
Price with price key representation (PSL):
The price always applies to a quantity ruled through the price key:
Price for 1 unit
Price for 100 units
Price for 1000 units
Quantity
The quantity shows the number of pieces or units of measure contained in the order or delivery for the respective article.
In contrast to sales packaging and secondary packaging, the disposal costs for chemical-technical products are shown separately. The breakdown of the individual costs can be found on the relevant products and also in the shopping cart, as well as in our
General Terms and Conditions (GTC)
.
Art.-no.
Plus disposal costs -,-- per selected packing unit
Cust. Mat. No.
Exclusively for registered customers
Register now and access more than 15,000 products
Call customer service: 1300 65 77 65
Prices for customers after login
Reliable lubrication
Gets into the areas where the lubricating oil needs to work (excellent creeping properties)


Ideally suited for invisible lubricating points
Reliable wear protection
Contains PTFE solid lubricant


Once the grease film has been torn off, the PTFE performs the lubrication (emergency running property)


Permanent anti-skid protective film for high temperature loads
Long-term effect for reliability
Reliable and long-term protection against corrosion


Does not oxidise (harden) up to +200°C, briefly up to +250°C


No carbonisation residues
Safe application
Good compatibility with the majority of plastics, O-rings and X-rings


Neutral behaviour with painted surfaces
Resistant to spray water and salt water, weak acids and bases
Free from silicone, resin and acids
Notice
Where the lubricating film tears with conventional mineral oil-based lubricants (e.g. at 120°C, red curve), our art. no. 08931063 0.327, dated: 11. 06. 2021 Adolf Würth GmbH & Co. KG, 74650 Künzelsau supplementary products art. no. adhesive lubricant pre-cleaner HHS® Clean 089310610 HHS® 5000 offers a longer lubricating effect (green curve) - "Reliable lubrication". The long-term effect is therefore ensured and offers excellent safety reserves in everyday use. It is only possible to produce a long-term effect when the lubricating point is clean and pre-treated. We therefore recommend before each application
Application area
Extremely temperature-resistant, fully synthetic penetrating oil with PTFE. Provides optimum LUBRICATION SAFETY in everyday use.
Instructions
Shake can well before use. Thoroughly pre-clean the points to be lubricated with HHS® CLEAN, art. no. 0893 106 10. Then spray onto the cleaned surface
Select RAL-colour code
!! NOTE: On-screen visualisation of the colour differs from real colour shade!!