Concrete screw with female thread W-BS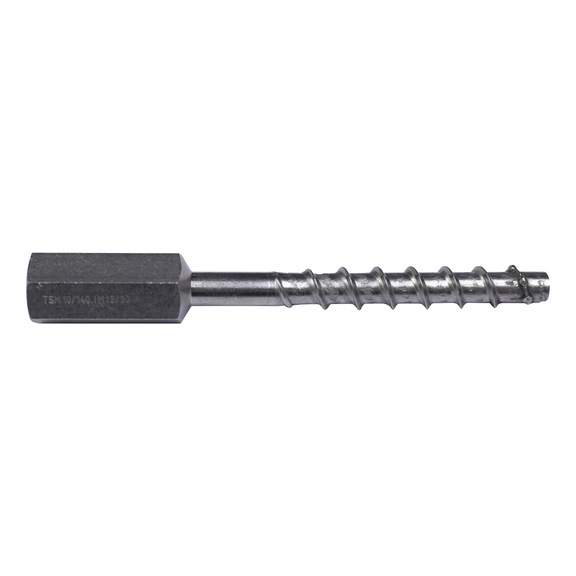 For detailed information, other images and documents, please select individual articles from the following table.
Concrete screw with female thread W-BS
Highest load capacities and efficient mounting. For suspensions of fittings with connecting thread
Anchor size: 10 mm
Thread diameter: 10 mm
Anchor length (l): 105 mm
Female thread: 12 mm
Nominal drill-bit diameter (d 0): 10 mm
Drill hole depth (h 1.1): 65 mm
Drill hole depth (h 1.3): 95 mm
Embedding depth (h nom1): 55 mm

Embedding depth (h nom3): 85 mm
External drive: WS19
Material: Stainless steel A4 / stainless steel A4
Surface: Plain
Exclusively for registered customers
Register now and access more than 20,000 products
Call customer service: 1300 65 77 65
Variants
Packaging unit
The packaging unit defines the number of articles in one packaging. In the catalog segment you can choose from different packaging units if a pop-up menu is displayed.
Just leave the field empty if you don't know the packaging unit when directly entering the article number in the shopping basket or when importing with Easy-/VarioScan. The packaging unit will be determined automatically.
Structure of our article number
The article number is made up of the following: VVVVAAABBB
VVVV = 4 digits for prefix number (please note that the first digit is currently always 0)
AAA = 3 digits for dimension part 1
BBB = 3 digits for dimension part 2
Example article number structures:
Example 1: Screw with dimensions of 4x10 mm:
VVVVAAABBB
00574 10 (2 spaces between the 4 and the 10)
Example 2: Screw with dimensions of 10x20 mm:
VVVVAAABBB
005710 20 (1 space between the 10 and the 20)
Example 3: Flat washer with an internal diameter of 6 mm:
VVVVAAABBB
04076
Information on price display
Price per packaging unit (PU):
The displayed price is always in line with the displayed packaging, if the PU is 250 the price for 250 units, if the PU is 300 the price for 300 units.
Price with price key representation (PSL):
The price always applies to a quantity ruled through the price key:
Price for 1 unit
Price for 100 units
Price for 1000 units
Quantity
The quantity shows the number of pieces or units of measure contained in the order or delivery for the respective article.
In contrast to sales packaging and secondary packaging, the disposal costs for chemical-technical products are shown separately. The breakdown of the individual costs can be found on the relevant products and also in the shopping cart, as well as in our
General Terms and Conditions (GTC)
.
Art.-no.
Plus disposal costs -,-- per selected packing unit
Cust. Mat. No.
Exclusively for registered customers
Register now and access more than 20,000 products
Call customer service: 1300 65 77 65
Prices for customers after login
Extremely flexible to use
Multiple anchoring depths and a large variety of types
Fastening can be adjusted up to twice after installation
For example in order to align railings or anchor plates (please refer to the assembly guide in the approval or the enclosed leaflet)
High load-bearing capacities


Virtually no expansion effect, enabling minimal axis and edge distances to be maintained


Very quick and easy to install


No installation torque required


Immediate load-bearing capacity – no waiting
Notice
From size 8, we recommend the use of a suitable tangential impact screwdriver for installation.
If several anchors are arranged behind each other in the same load direction, only one anchor is positioned for transverse loads.
Instructions
Individual attachment
Standard concrete C20/25 to C50/60 (cracked and non-cracked concrete, seismic performance category C1 for sizes 8–14)
Ideal for attachments for which removal of the attached part is required. Suitable for attaching
e.g. steel constructions, supports, beams, fencing systems, barriers
Can be used in concrete < C20/25 and compression-proof natural stone (without approval)
W-BS/A4 (A4 stainless steel) approved for use in dry indoor areas and also outdoors (including industrial atmospheres and coastal areas) or in damp rooms, provided that no particularly aggressive conditions are present
Select RAL-colour code
!! NOTE: On-screen visualisation of the colour differs from real colour shade!!