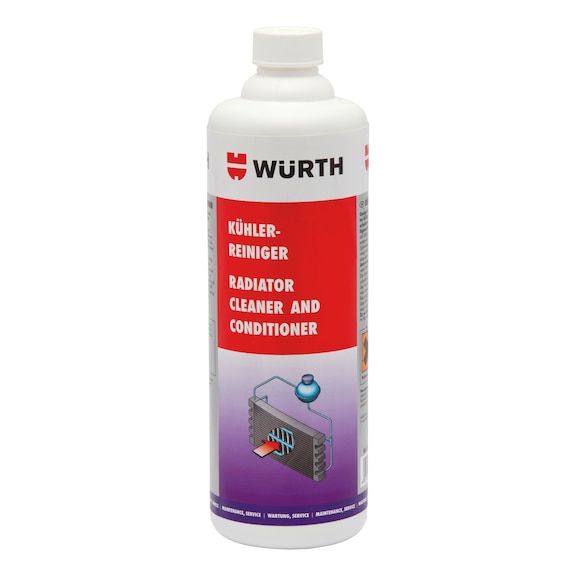 For detailed information, other images and documents, please select individual articles from the following table.
Exclusively for registered customers
Register now and access more than 20,000 products
Call customer service: 1300 65 77 65
Exclusively for registered customers
Register now and access more than 20,000 products
Call customer service: 1300 65 77 65
Prices for customers after login
Removes corrosion and sludge deposits in the cooling circuit
Increased operational reliability due to clean cooling system.
Neutralises lime residues
New coolant is protected from contamination by old dirt residues.
Compatible with anti-freeze
Alkaline in pH range of 9–11
Compatible with all materials used to build the radiator.
Removes deposits in the cooling circuit and cleans the cooling system of contamination. For instance, oil residues caused by damage to the cylinder heads can be removed. The radiator cleaner can also be used as a preventative measure every time the coolant is changed.
250 ml is sufficient for 10 litres of cooling water. 1000 ml is sufficient for 40 litres of cooling water.
Notice
The cleaner is not suitable for vehicle operation.
The usage instructions are recommendations based on the tests we have conducted and based on our experience; carry out your own tests before each application. Due to the large number of applications and storage and processing conditions, we do not assume any liability for a specific application result. Insofar as our free customer service provides technical information or acts as an advisory service, no responsibility is assumed by this service except where the advice or information given falls within the scope of our specified, contractually agreed service or the advisor was acting deliberately. We guarantee consistent quality of our products. We reserve the right to make technical changes and further develop products.
Application area
For rectifying reduced cooling performance during radiator repairs and maintenance work on the cooling system.
Instructions
Add the contents of the can to the cooling water. Open the heater valves. Run the engine at operating temperature for approx. 30 minutes. Deposits that have been dislodged by the radiator cleaner must be flushed away with water. The flushing process can be carried out without removing the thermostat. It is recommended that parts that have been affected by oil ingress, such as the expansion tank and water hoses, be replaced. Refill the cooling system after cleaning, bleed and check for leaks.
Select RAL-colour code
!! NOTE: On-screen visualisation of the colour differs from real colour shade!!