Diamond mortar raking blade Combined Longlife & Speed RS Plus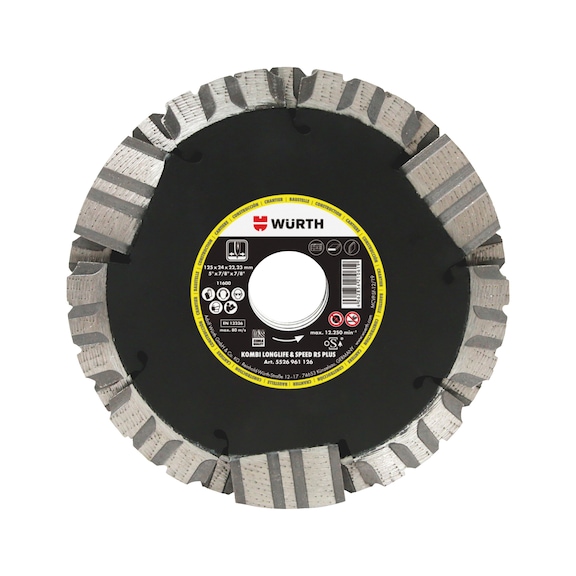 The images are examples. For detailed information, other images and documents, please select individual articles from the following table.
Diamond mortar raking blade Combined Longlife & Speed RS Plus
For fast cutting and simultaneous milling of cable ducts with wall slitting cutters with at least 1800 W. The laborious and time-consuming removal of the centre bar is no longer necessary.
Versatility (points system): 4 of 4 points
Service life (points system): 4 of 4 points
Cutting speed (point system): 4 of 4 points
Cut quality (point system): 3 of 4 points
Diameter: 125 mm
Drill hole: 22.23 mm
Segment height: 12 mm
Segment thickness: 2.2 mm

Segment connection: Laser
Max. rotation speed: 12250 rpm
Max. circumferential speed: 80 m/s
Exclusively for registered customers
Register now and access more than 15,000 products
Call customer service: 1300 65 77 65

Variants
Packaging unit
The packaging unit defines the number of articles in one packaging. In the catalog segment you can choose from different packaging units if a pop-up menu is displayed.
Just leave the field empty if you don't know the packaging unit when directly entering the article number in the shopping basket or when importing with Easy-/VarioScan. The packaging unit will be determined automatically.
Structure of our article number
The article number is made up of the following: VVVVAAABBB
VVVV = 4 digits for prefix number (please note that the first digit is currently always 0)
AAA = 3 digits for dimension part 1
BBB = 3 digits for dimension part 2
Example article number structures:
Example 1: Screw with dimensions of 4x10 mm:
VVVVAAABBB
00574 10 (2 spaces between the 4 and the 10)
Example 2: Screw with dimensions of 10x20 mm:
VVVVAAABBB
005710 20 (1 space between the 10 and the 20)
Example 3: Flat washer with an internal diameter of 6 mm:
VVVVAAABBB
04076
Information on price display
Price per packaging unit (PU):
The displayed price is always in line with the displayed packaging, if the PU is 250 the price for 250 units, if the PU is 300 the price for 300 units.
Price with price key representation (PSL):
The price always applies to a quantity ruled through the price key:
Price for 1 unit
Price for 100 units
Price for 1000 units
Quantity
The quantity shows the number of pieces or units of measure contained in the order or delivery for the respective article.
In contrast to sales packaging and secondary packaging, the disposal costs for chemical-technical products are shown separately. The breakdown of the individual costs can be found on the relevant products and also in the shopping cart, as well as in our
General Terms and Conditions (GTC)
.
Art.-no.
Plus disposal costs -,-- per selected packing unit
Cust. Mat. No.
Exclusively for registered customers
Register now and access more than 15,000 products
Call customer service: 1300 65 77 65
Prices for customers after login
Up to 50% time savings
The special arrangement and geometry of the side-by-side diamond cutting blades enables cutting and milling in a single process.
Protection against undercuts especially in particularly abrasive materials
Special protective segments
Reduced dust and dirt
Simultaneous cutting and milling causes the dust or dirt to be sucked out from the entire slot during the process using the wall slitting cutter.
Ideal for 20 mm or 25 mm empty tubes
The slightly undersized dimensions allow basic clamping of the empty tube to a degree (without additional mounting material), further facilitating work.
Notice
Diamond cutting discs become dull at excessively high speeds and wear too rapidly at insufficient circumferential speeds


If the ease of cutting decreases (indicated by heavy sparking), resharpen the disc in abrasive material, e.g. sandstone, with several cuts


Separate larger workpiece cross-sections in several sections (swing cut)


Work without pressure — the weight of the machine is sufficient. Increased pressure causes increased wear.


Diamond cutting discs are designed for straight cutting. Cutting curves deforms the blade and results in core cracks and segment tear-offs — risk of injury!


Although the tool is safe, always wear safety goggles and clothing while working


Observe the information on the label (max. speed), restrictions of use and safety instructions


The direction arrow on the disc must match the machine's direction of rotation


Must not be used for lateral grinding


Use the appropriate protective hood


Clamping must be performed only by a trained specialist (do not use force, use clean clamping flanges of the same size, perform a test run)


If grinding tools are clamped or used incorrectly or are damaged, they represent a danger and may cause serious injury
Application area
Sand-lime brick, aerated concrete, pumice, concrete products, concrete, concrete (lightly reinforced), ideal for hollow-chamber bricks (Poroton etc.). In the case of particularly hard materials, produce the maximum working depth in two steps.
Select RAL-colour code
!! NOTE: On-screen visualisation of the colour differs from real colour shade!!