Fast grinding polish Short Cut P05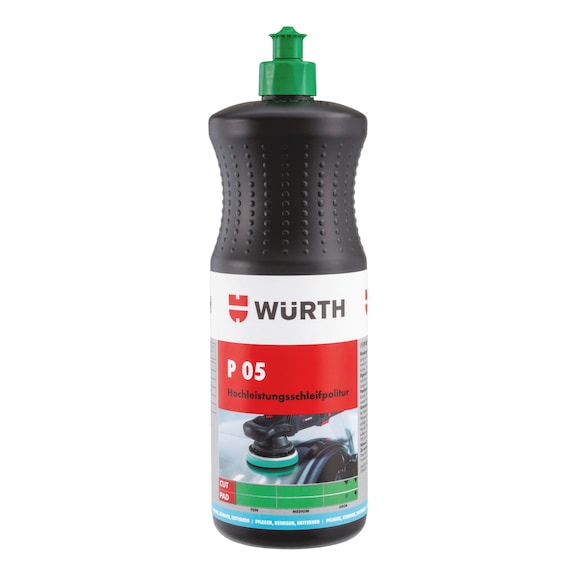 The images are examples. For detailed information, other images and documents, please select individual articles from the following table.
Fast grinding polish Short Cut P05
Extra coarse fast grinding polish for removing deep scratches in new and old paint coatings.
Chemical basis: Water, hydrocarbon
Smell/fragrance: Fruity
Colour: White
pH value: 8
Density: 1.08 g/cm³
Shelf life from production: 24 Month
Conditions to maintain shelf life from production: at 15°C to 25°C
Silicone-free: Yes
Exclusively for registered customers
Register now and access more than 15,000 products
Call customer service: 1300 65 77 65
Variants
Packaging unit
The packaging unit defines the number of articles in one packaging. In the catalog segment you can choose from different packaging units if a pop-up menu is displayed.
Just leave the field empty if you don't know the packaging unit when directly entering the article number in the shopping basket or when importing with Easy-/VarioScan. The packaging unit will be determined automatically.
Structure of our article number
The article number is made up of the following: VVVVAAABBB
VVVV = 4 digits for prefix number (please note that the first digit is currently always 0)
AAA = 3 digits for dimension part 1
BBB = 3 digits for dimension part 2
Example article number structures:
Example 1: Screw with dimensions of 4x10 mm:
VVVVAAABBB
00574 10 (2 spaces between the 4 and the 10)
Example 2: Screw with dimensions of 10x20 mm:
VVVVAAABBB
005710 20 (1 space between the 10 and the 20)
Example 3: Flat washer with an internal diameter of 6 mm:
VVVVAAABBB
04076
Information on price display
Price per packaging unit (PU):
The displayed price is always in line with the displayed packaging, if the PU is 250 the price for 250 units, if the PU is 300 the price for 300 units.
Price with price key representation (PSL):
The price always applies to a quantity ruled through the price key:
Price for 1 unit
Price for 100 units
Price for 1000 units
Quantity
The quantity shows the number of pieces or units of measure contained in the order or delivery for the respective article.
In contrast to sales packaging and secondary packaging, the disposal costs for chemical-technical products are shown separately. The breakdown of the individual costs can be found on the relevant products and also in the shopping cart, as well as in our
General Terms and Conditions (GTC)
.
Art.-no.
Plus disposal costs -,-- per selected packing unit
Cust. Mat. No.
Exclusively for registered customers
Register now and access more than 15,000 products
Call customer service: 1300 65 77 65
Prices for customers after login
Innovative powdered consistency made from aluminium oxide
Maximum efficiency thanks to unrivalled removal rate, as well as excellent high-gloss properties


Sanding grooves from a grain of P1200–1500 can be easily removed
Thick consistency
Polish does not spray everywhere


Long lasting


Minimum dust creation


No laborious re-cleaning of adjacent areas
Can be applied manually and by machine
For conventional and scratch-resistant paint types
Suitable for use on used and new paint surfaces
Silicone-free
Notice
We recommend using the polish with our green polishing pad.
Application area
Extremely abrasive high-gloss polish for quickly removing surface defects in fresh repair and fully hardened top coats as well as for polishing stubborn signs of usage on used paints.
Painter preparation: Trapped dust, sanding grooves, orange peel, paint defects
Instructions
Shake well before use. Moisten the surfaces of the selected polishing disc evenly with the paste and apply a small amount to the surface to be polished. Position the polishing pad flat on the area and start the machine. Apply a certain pressure at 1500–2000 rpm, process the surface until grinding traces or paint imperfections have been removed. Work in sections! Remove residual polish with a microfibre cloth. Remove any remaining streaks with P30 Plus anti-hologram polish.
Rotary 1500–2000 rpm


Eccentric 2000–10.000 rpm
Select RAL-colour code
!! NOTE: On-screen visualisation of the colour differs from real colour shade!!