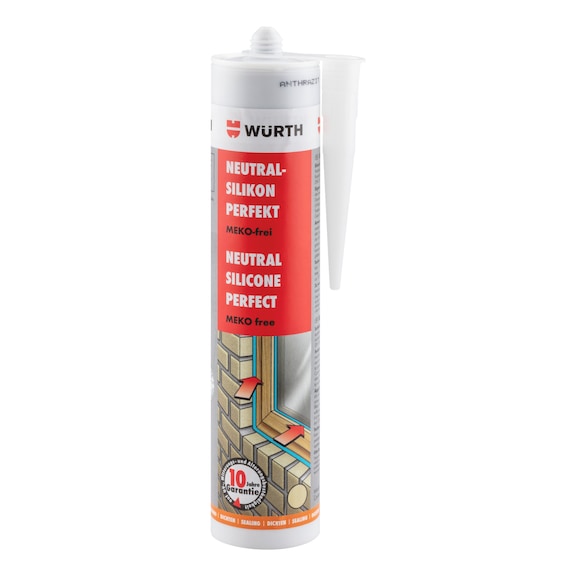 For detailed information, other images and documents, please select individual articles from the following table.
Low-emission, highly adhesive and versatile sealant for expansion joints in indoor and outdoor areas. Specially designed for window glazing and sanitary applications
Container: Cartridge
Contents: 310 ml
Chemical basis: Neutral crosslinked silicones, oxime-based
Fungicidal properties: Yes
Min. skin-formation time: 10 min
Ultraviolet resistance: Yes
Continuous motion absorption: 25 %
Smell/fragrance: Characteristic

Full curing speed/conditions: 2 mm/d / 23°C and 50% relative humidity
Shelf life from production: 18 Month
Min./max. processing temperature: 5 to 40 °C
Coating compatibility: Yes
Min. breaking elongation: 450 %
Breaking elongation conditions: for 2-mm film
Building material class: B2 - Normally inflammable
Exclusively for registered customers
Register now and access more than 20,000 products
Call customer service: 1300 65 77 65

Variants
Packaging unit
The packaging unit defines the number of articles in one packaging. In the catalog segment you can choose from different packaging units if a pop-up menu is displayed.
Just leave the field empty if you don't know the packaging unit when directly entering the article number in the shopping basket or when importing with Easy-/VarioScan. The packaging unit will be determined automatically.
Structure of our article number
The article number is made up of the following: VVVVAAABBB
VVVV = 4 digits for prefix number (please note that the first digit is currently always 0)
AAA = 3 digits for dimension part 1
BBB = 3 digits for dimension part 2
Example article number structures:
Example 1: Screw with dimensions of 4x10 mm:
VVVVAAABBB
00574 10 (2 spaces between the 4 and the 10)
Example 2: Screw with dimensions of 10x20 mm:
VVVVAAABBB
005710 20 (1 space between the 10 and the 20)
Example 3: Flat washer with an internal diameter of 6 mm:
VVVVAAABBB
04076
Information on price display
Price per packaging unit (PU):
The displayed price is always in line with the displayed packaging, if the PU is 250 the price for 250 units, if the PU is 300 the price for 300 units.
Price with price key representation (PSL):
The price always applies to a quantity ruled through the price key:
Price for 1 unit
Price for 100 units
Price for 1000 units
Quantity
The quantity shows the number of pieces or units of measure contained in the order or delivery for the respective article.
In contrast to sales packaging and secondary packaging, the disposal costs for chemical-technical products are shown separately. The breakdown of the individual costs can be found on the relevant products and also in the shopping cart, as well as in our
General Terms and Conditions (GTC)
.
Art.-no.
Plus disposal costs -,-- per selected packing unit
Cust. Mat. No.
Exclusively for registered customers
Register now and access more than 20,000 products
Call customer service: 1300 65 77 65
Prices for customers after login
The silicone sealant is MEKO-free and is therefore classified as low-emission and environmentally friendly and has been awarded the EMICODE EC1 Plus label


Meets the requirements for window glazing in accordance with DIN 18545, Part 2, Sealant Group E


Excellent adhesion to wood, metals and many plastics


Excellent compatibility with most commercially available paint and glazing coatings


Building material class B2 according to DIN 4102


Does not have a tacky surface


High degree of abrasion resistance and good smoothing properties


Permanently elastic


Short pulled thread
Notice
The colour display is for guidance only. For an exact colour selection, please use our colour sample cards.
Neutral silicone Perfect is not suitable for adhesive bonding or filling hollow spaces. Complies with building material class DIN 4102. Due to the large number of existing paint and glazing formulas, especially on alkyd resin paints, oil-based coatings and powder-coated aluminium, it is necessary to perform your own tests. Remove excess smoothing agent on the glass and frame. Otherwise there is the risk of streaking. Risk of yellowing on contact with white alkyd resin paints cannot be excluded. The transparent colour is adjusted to be milky/cloudy. When hardening, neutral silicone Perfect gives off an odour typical of silicone. This odour can no longer be smelled once the hardening process is complete. Colour adjustment: matt. Silicone surfaces should not be cleaned with non-abrasive cleaning agents and non-etching cleaners.
Silicone has a tendency to discolour in dark areas where there is no UV exposure. Avoid contact with VKP tape. After skin formation, do not spray any liquid (e.g. sealant smoothing agent or water) onto the joint as spots may form.
If smoothing agent/water is used, it may only be used before the time to form the skin and must be removed completely with a smoothing tool after application. Excess amounts next to the joint must also be removed immediately. Otherwise, there is a risk of staining.
For materials and materials that come into contact with the sealant even after processing, the user must clarify whether their ingredients or evaporation may not cause impairment or change (e.g., discolouration) the sealant joint. To determine the precise colour, use sample card art. no. 5995000400
Application area
For window glazing and sealing connection joints in wooden, plastic and aluminium windows.


Sealing expansion joints for indoor and outdoor use, such as door, wall, floor, ceiling and window ceiling joints and gutters.


Creating a seal between frame and safety glass. When doing so, it should be ensured that there can be no direct contact between the sealant and the laminated safety glass film.


Without primer: Wood (varnished, painted — refer to instructions), glass, aluminium (plain, painted, glazed), all types of metal (except lead and copper), enamel, tiles, plastic-coated panels, hard PVC


With primer: Concrete, aerated concrete, sand-lime brick, clinker, brick, gypsum, plaster
Instructions
Please observe the "General Notes on Application for Sealants" and "Construction Material Compatibility of Würth Sealants" overview sheet.
Select RAL-colour code
!! NOTE: On-screen visualisation of the colour differs from real colour shade!!