Pneumatic butterfly impact screwdriver DSS 3/8'' BF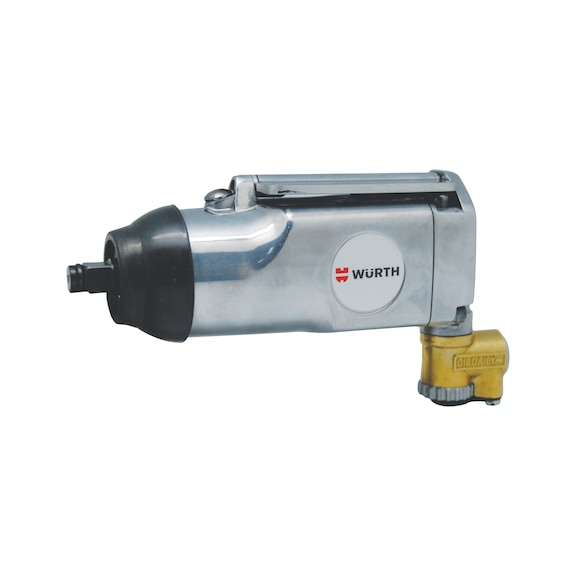 For detailed information, other images and documents, please select individual articles from the following table.
Pneumatic butterfly impact screwdriver DSS 3/8'' BF
Small and lightweight palm-size design, perfect for confined spaces.
Type description: 3/8'' Pneumatic butterfly impact wrench
Tool holding device: 3/8-inch external square
Max. working torque: 68 Nm
Max. releasing torque: 101 Nm
Sound-pressure level: 110 dB
Vibration: 13.4 m/s²
Working pressure: 90 psi
Weight of machine: 0.9 kg

Min. hose inner diameter: 10 mm
Air consumption: 85 l/min
Connection thread: 1/4 inch
Length x width x height: 128 x 58 x 70 mm
Exclusively for registered customers
Register now and access more than 20,000 products
Call customer service: 1300 65 77 65
Variants
Packaging unit
The packaging unit defines the number of articles in one packaging. In the catalog segment you can choose from different packaging units if a pop-up menu is displayed.
Just leave the field empty if you don't know the packaging unit when directly entering the article number in the shopping basket or when importing with Easy-/VarioScan. The packaging unit will be determined automatically.
Structure of our article number
The article number is made up of the following: VVVVAAABBB
VVVV = 4 digits for prefix number (please note that the first digit is currently always 0)
AAA = 3 digits for dimension part 1
BBB = 3 digits for dimension part 2
Example article number structures:
Example 1: Screw with dimensions of 4x10 mm:
VVVVAAABBB
00574 10 (2 spaces between the 4 and the 10)
Example 2: Screw with dimensions of 10x20 mm:
VVVVAAABBB
005710 20 (1 space between the 10 and the 20)
Example 3: Flat washer with an internal diameter of 6 mm:
VVVVAAABBB
04076
Information on price display
Price per packaging unit (PU):
The displayed price is always in line with the displayed packaging, if the PU is 250 the price for 250 units, if the PU is 300 the price for 300 units.
Price with price key representation (PSL):
The price always applies to a quantity ruled through the price key:
Price for 1 unit
Price for 100 units
Price for 1000 units
Quantity
The quantity shows the number of pieces or units of measure contained in the order or delivery for the respective article.
In contrast to sales packaging and secondary packaging, the disposal costs for chemical-technical products are shown separately. The breakdown of the individual costs can be found on the relevant products and also in the shopping cart, as well as in our
General Terms and Conditions (GTC)
.
Art.-no.
Plus disposal costs -,-- per selected packing unit
Cust. Mat. No.
Exclusively for registered customers
Register now and access more than 20,000 products
Call customer service: 1300 65 77 65
Prices for customers after login
Superior operator productivity
Superior ergonomics even at high levels of torque
Great torque control
Thanks to the built-in regulator
Increase service life and low vibration
The Jumbo hammer impact mechanism in oil tank provides constant lubrication
Easy maneuvering
Air inlet swivels 360 degrees prevent the hose kinks
Single hand operation
Butterfly throttle allows to operate the tool at the desired speed in either forward or reverse direction
Side exhaust
Directs air away from operator and workplace
Notice
Not suitable for wheel changing


Impact screwdrivers are not torque screwdrivers. Connections requiring a specific torque must be checked by means of a torque measuring device after tightening with the impact screwdriver.


If the impact screwdriver is used regularly, a little oil should be added daily


Plug-in nipple not included
Application area
Ideal for assembly and maintenance of automotive transmission, body panel, exhaust system and small engine repair.
Select RAL-colour code
!! NOTE: On-screen visualisation of the colour differs from real colour shade!!