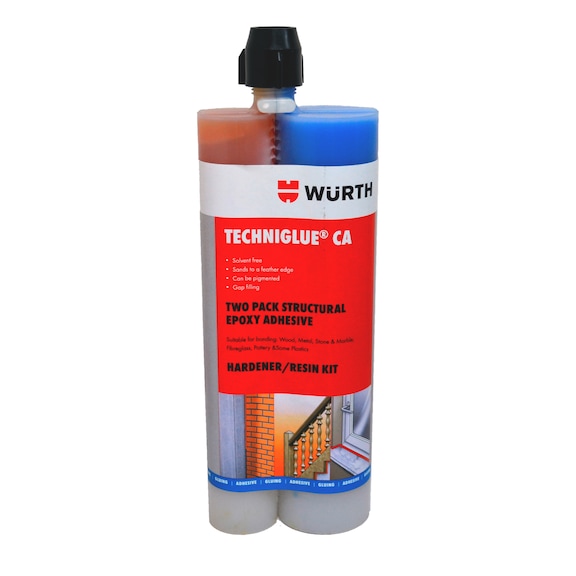 For detailed information, other images and documents, please select individual articles from the following table.
Techniglue CA is a solvent free, epoxy resin, specially formulated to harden at room temperature and produce high-strength, waterproof bonds. The thixotropic nature of the adhesive provides good gap filling and hold-up on vertical surfaces.
Exclusively for registered customers
Register now and access more than 20,000 products
Call customer service: 1300 65 77 65
Exclusively for registered customers
Register now and access more than 20,000 products
Call customer service: 1300 65 77 65
Prices for customers after login
Two part structural expoxy adhesive.
Notice
Safety:
Techniglue CA has a moderate sensitising potential, and should be kept out of the eyes and off the skin.
• Use only with good ventilation and adequate PPE equipment – impervious gloves and safety glasses.
Storage:
Techniglue CA will keep for 2 years if kept in the original containers at room temperature (15°C to 32°C) and out of direct sunlight. Containers and cartridges should be firmly sealed after use to prevent moisture absorption.
Application area
It is suitable for bonding structural elements fabricated from wood, concrete, fibreglass, stone and marble, pottery, metal (ferrous and non-ferrous) and some plastics.
Instructions
The surfaces to be bonded must be dry and free from any contaminants such as oil or dust. Fibreglass, timber, painted or metal surfaces should be thoroughly sanded in order to provide a good key with the adhesive. Concrete surfaces should be wire brushed to remove laitance*. Apply sufficient mixed epoxy to one or both of the surfaces to assure intimate contact between bonding surfaces. Excessive clamping pressures should be avoided. Components need only be held firmly to avoid movement during the curing process.
Mixing Ratio:
1 x part hardener to 2 x parts resin by volume. Take care to assure that the two components are thoroughly mixed to a uniform colour prior to applying. An easy way to mix the bulk tin version of this product is to dispense 3 x equal portions – 2 x of resin and 1 x of hardener. This way you can judge more easily that the mixing ration has been achieved. (This is not necessary, of course, with the cartridge version of the product as it mixes correctly out of the cartridge as you apply it.)
Clean Up:
Uncured Techniglue CA resin and hardener can be cleaned up with warm water.
* Laitance is the weak, milky or powdery layer of cement dust, lime and sand fines that may appear on
the surface of concrete. These fines rise to the surface of concrete that was over-watered, or allowed to
dry prematurely in the absence of curing membranes or other good curing practices. It may also form as
a consequence of over-trowelling.
Select RAL-colour code
!! NOTE: On-screen visualisation of the colour differs from real colour shade!!