Food-grade silicone acetate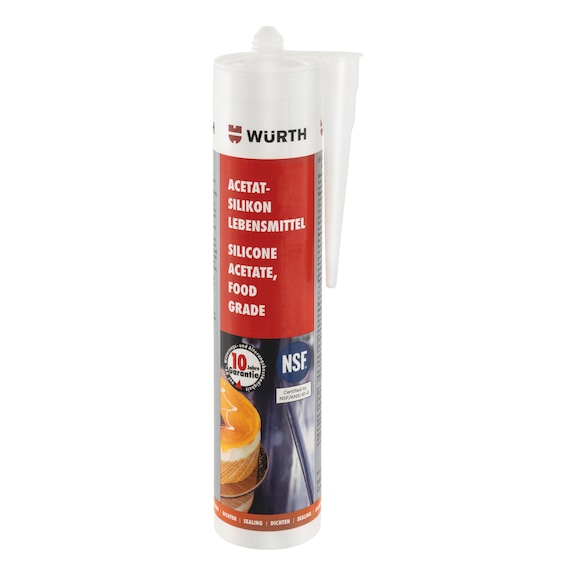 For detailed information, other images and documents, please select individual articles from the following table.
Food-grade silicone acetate
Special, high-quality sealant for sealing in food processing and drinking water sector, as well as for aquarium construction
Exclusively for registered customers
Register now and access more than 20,000 products
Call customer service: 1300 65 77 65


Exclusively for registered customers
Register now and access more than 20,000 products
Call customer service: 1300 65 77 65
Prices for customers after login
Tested product characteristics
Meets the requirements of NSF/ANSI Standard 61


Sensor testing for food
Tested by Stegmann Laboratory
Can be used in food handling and processing operations
Tested by ISEGA-Forschungs- und Untersuchungsgesellschaft mbH Aschaffenburg (Germany)
In aquarium construction


Can be used in the drinking water sector
KTW test (contact of drinking water with non-metallic materials) by The Ruhr District Institute of Hygiene in Gelsenkirchen (Germany)
DVGW Worksheet W 270 – Hygiene Institute of the Ruhr Region, Gelsenkirchen
Resistant to micro-organisms


In cleanrooms
Adheres to a wide variety of materials
Adhesion to a range of substrates present in the food processing sector


Also adheres to artificial stone
High degree of resistance to chemicals
Good smoothing properties
Building material class B2 according to DIN 4102
Notice
Due to the large number of existing paint systems, you should conduct your own tests to check compatibility with paint. Risk of yellowing on contact with white alkyd resin paints cannot be excluded. Not suitable for non-ferrous metals and metals without corrosion protection. Food-grade acetate silicon is not suitable for bonding or filling cavities.
Silicone has a tendency to discolour in dark areas where there is no UV exposure.
As colour definitions can vary, we recommend using the colour chart, art. no. 5995000406 to ensure precise colour matching.
*The 10-year warranty applies exclusively to the UV, weathering and ageing resistance properties of the product. Functionality cannot be guaranteed as this is dependent on proper application.
The usage instructions are recommendations based on the tests we have conducted and our experience; carry out your own tests before each application. Due to the large number of applications and storage and processing conditions, we do not assume any liability for a specific application result. Insofar as our free customer service provides technical information or acts as an advisory service, no responsibility is assumed by this service except where the advice or information given falls within the scope of our specified, contractually agreed service or the advisor was acting deliberately. We guarantee consistent quality of our products. We reserve the right to make technical changes and further develop products.
Application area
For sealing joints that come into contact with drinking water or food, e.g. in commercial kitchens, butcher's shops, breweries, sales counters and walk-in refrigerators


Without primer: Enamels, tiles, glass, anodised aluminium, stainless steel and artificial stone


With primer: Aluminium** (bare, powder-coated), chrome, hard PVC, wood (bare, painted and glazed)
Suitable for aquarium manufacture
The right dimensioning (whether it's an adhesive bond or a double joint) depends on the type of glass elements used. When executing a double joint, the joint width should be at least 5 mm. A permanent adhesive bond can only be ensured after thoroughly cleaning the glass. For aquariums with a max. filling volume of 1350 litres.
Instructions
Please observe the General Notes on Application for Sealants and Construction Material Compatibility of Würth Sealants overview sheet.
Select RAL-colour code
!! NOTE: On-screen visualisation of the colour differs from real colour shade!!