Food-grade silicone acetate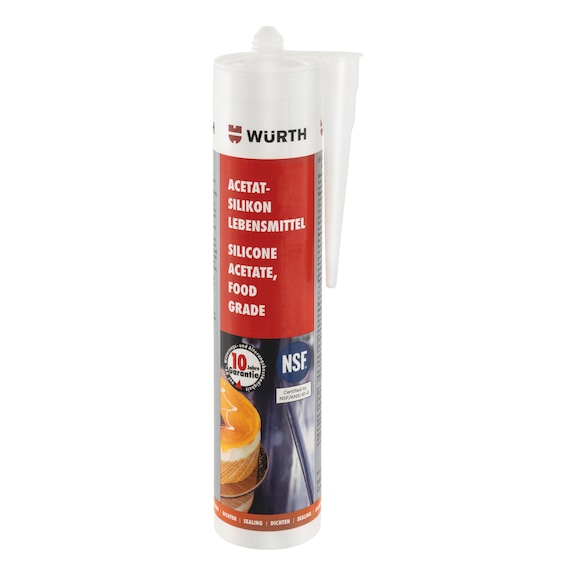 For detailed information, other images and documents, please select individual articles from the following table.
Food-grade silicone acetate
Special, high-quality sealant for sealing in food processing and drinking water sector, as well as for aquarium construction
Container: Cartridge
Contents: 310 ml
Chemical basis: Sauer silicones (acetate systems)
Density/conditions: 1.04 g/cm³ / at 20°C
Continuous motion absorption: 25 %
Shore A hardness: 25
Min./max. processing temperature: 5 to 40 °C
Min./max. temperature resistance: -40 to 180 °C

Min./max. full curing speed /conditions: 2-3 mm/d / 23°C and 50% relative humidity
Min. skin-formation time: 10 min
Conditions for skin-formation time: at 23°C and 50% relative humidity
Min. breaking elongation: 500 %
Fungicidal properties: No
Exclusively for registered customers
Register now and access more than 20,000 products
Call customer service: 1300 65 77 65


Variants
Packaging unit
The packaging unit defines the number of articles in one packaging. In the catalog segment you can choose from different packaging units if a pop-up menu is displayed.
Just leave the field empty if you don't know the packaging unit when directly entering the article number in the shopping basket or when importing with Easy-/VarioScan. The packaging unit will be determined automatically.
Structure of our article number
The article number is made up of the following: VVVVAAABBB
VVVV = 4 digits for prefix number (please note that the first digit is currently always 0)
AAA = 3 digits for dimension part 1
BBB = 3 digits for dimension part 2
Example article number structures:
Example 1: Screw with dimensions of 4x10 mm:
VVVVAAABBB
00574 10 (2 spaces between the 4 and the 10)
Example 2: Screw with dimensions of 10x20 mm:
VVVVAAABBB
005710 20 (1 space between the 10 and the 20)
Example 3: Flat washer with an internal diameter of 6 mm:
VVVVAAABBB
04076
Information on price display
Price per packaging unit (PU):
The displayed price is always in line with the displayed packaging, if the PU is 250 the price for 250 units, if the PU is 300 the price for 300 units.
Price with price key representation (PSL):
The price always applies to a quantity ruled through the price key:
Price for 1 unit
Price for 100 units
Price for 1000 units
Quantity
The quantity shows the number of pieces or units of measure contained in the order or delivery for the respective article.
In contrast to sales packaging and secondary packaging, the disposal costs for chemical-technical products are shown separately. The breakdown of the individual costs can be found on the relevant products and also in the shopping cart, as well as in our
General Terms and Conditions (GTC)
.
Art.-no.
Plus disposal costs -,-- per selected packing unit
Cust. Mat. No.
Exclusively for registered customers
Register now and access more than 20,000 products
Call customer service: 1300 65 77 65
Prices for customers after login
Tested product characteristics
Meets the requirements of NSF/ANSI Standard 61


Sensor testing for food
Tested by Stegmann Laboratory
Can be used in food handling and processing operations
Tested by ISEGA-Forschungs- und Untersuchungsgesellschaft mbH Aschaffenburg (Germany)
In aquarium construction


Can be used in the drinking water sector
KTW test (contact of drinking water with non-metallic materials) by The Ruhr District Institute of Hygiene in Gelsenkirchen (Germany)
DVGW Worksheet W 270 – Hygiene Institute of the Ruhr Region, Gelsenkirchen
Resistant to micro-organisms


In cleanrooms
Adheres to a wide variety of materials
Adhesion to a range of substrates present in the food processing sector


Also adheres to artificial stone
High degree of resistance to chemicals
Good smoothing properties
Building material class B2 according to DIN 4102
Notice
Due to the large number of existing paint systems, you should conduct your own tests to check compatibility with paint. Risk of yellowing on contact with white alkyd resin paints cannot be excluded. Not suitable for non-ferrous metals and metals without corrosion protection. Food-grade acetate silicon is not suitable for bonding or filling cavities.
Silicone has a tendency to discolour in dark areas where there is no UV exposure.
As colour definitions can vary, we recommend using the colour chart, art. no. 5995000406 to ensure precise colour matching.
*The 10-year warranty applies exclusively to the UV, weathering and ageing resistance properties of the product. Functionality cannot be guaranteed as this is dependent on proper application.
Application area
For sealing joints that come into contact with drinking water or food, e.g. in commercial kitchens, butcher's shops, breweries, sales counters and walk-in refrigerators


Without primer: Enamels, tiles, glass, anodised aluminium, stainless steel and artificial stone


With primer: Aluminium** (bare, powder-coated), chrome, hard PVC, wood (bare, painted and glazed)
Suitable for aquarium manufacture
The right dimensioning (whether it's an adhesive bond or a double joint) depends on the type of glass elements used. When executing a double joint, the joint width should be at least 5 mm. A permanent adhesive bond can only be ensured after thoroughly cleaning the glass. For aquariums with a max. filling volume of 1350 litres.
Instructions
Please observe the General Notes on Application for Sealants and Construction Material Compatibility of Würth Sealants overview sheet.
Select RAL-colour code
!! NOTE: On-screen visualisation of the colour differs from real colour shade!!