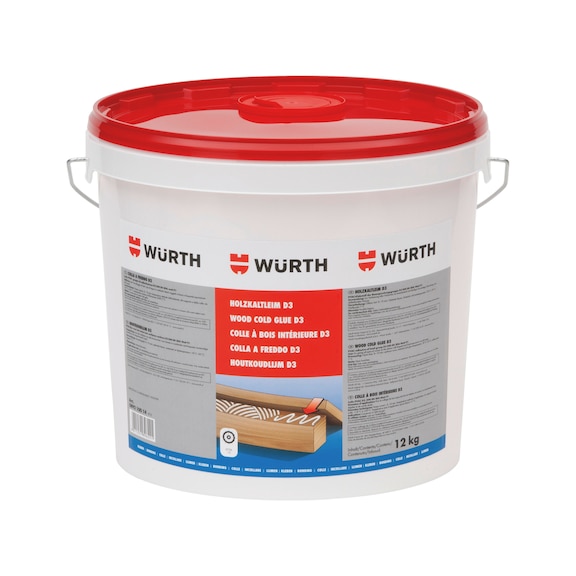 For detailed information, other images and documents, please select individual articles from the following table.
For particularly demanding wood bonding in indoor and outdoor applications
Exclusively for registered customers
Register now and access more than 20,000 products
Call customer service: 1300 65 77 65
Exclusively for registered customers
Register now and access more than 20,000 products
Call customer service: 1300 65 77 65
Prices for customers after login
High level of resistance to water and heat
Simple dispensing design
By screwing on the glue tap, the contents of the container can be dispensed into the adhesive bottle or the glue roller cleanly and easily.
Transparent when hardened
No visible gluing joints. Hardened glued joints are viscoplastic.
Notice
When gluing external joints (e.g. front door panels), the effects of heat (direct exposure to sunlight) can cause stresses in the wood and softening of glued joints. Duroplastic adhesives, such as PUR glue in the dispensing system, art. no. 0892100180 are suitable for this purpose. In conjunction with the tannic acid in the wood, the impact of bare metal may result in blue discolouration, especially with oak, and in red discolouration with beech. In isolated cases, substances contained in wood may result in unpredictable discolouration with various types of wood, e.g. beech, cherry, maple. At a pressing temperature above +50°C, brown discolouration may occur with softwood veneers. Fresh splashes of glue can be removed with water. Older adhesive residues can be softened with nitro thinner or acetone and then rubbed off. Stir the contents thoroughly before application and always close the bottle tightly after use. Protect from frost. The processing time and the setting time are heavily dependent on the working conditions, e.g. the temperatures, moisture and absorption levels of the materials, application quantities and tensions in the material.
Würth white glues are not suitable for use in the static range. Specially approved adhesives must be used for this purpose. Würth glues may only be used for non-load-bearing applications.
The usage instructions are recommendations based on the tests we have conducted and our experience; carry out your own tests before each application. Due to the large number of applications and storage and processing conditions, we do not assume any liability for a specific application result. Insofar as our free customer service provides technical information or acts as an advisory service, no responsibility is assumed by this service except where the advice or information given falls within the scope of our specified, contractually agreed service or the advisor was acting deliberately. We guarantee consistent quality of our products. We reserve the right to make technical changes and further develop products.
Glue tap for use with 28 kg bucket only.
Application area
Gluing with D3 cold wood glue without hardener: Indoor use with frequent short-term exposure to draining water or condensation, and protected against weathering when used outdoors.
Internal doors


Internal steps and balustrades


Living room, kitchen and bedroom furniture


Assembly, surface, floorboard joints and blocks


Stationary edge coating with veneers and solid wood strips
Instructions
Apply a thin, even layer of D3 cold wood glue on one side with a glue roller, glue spatula, glue brush or an application machine.
Select RAL-colour code
!! NOTE: On-screen visualisation of the colour differs from real colour shade!!