Deodoriser Super Quick Fresh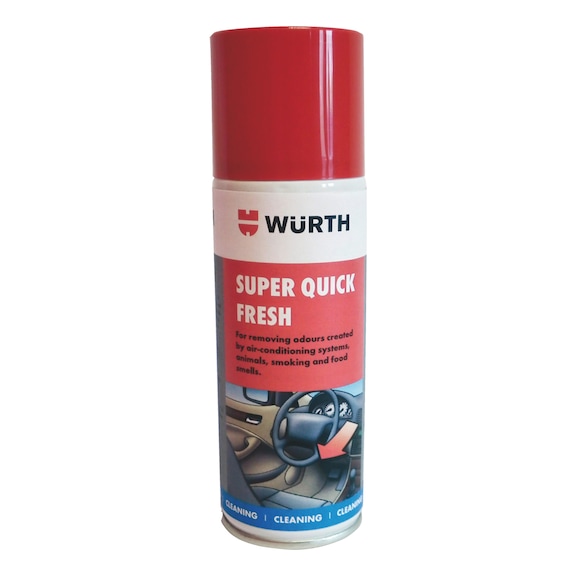 For detailed information, other images and documents, please select individual articles from the following table.
Deodoriser Super Quick Fresh
Exclusively for registered customers
Register now and access more than 20,000 products
Call customer service: 1300 65 77 65
Exclusively for registered customers
Register now and access more than 20,000 products
Call customer service: 1300 65 77 65
Prices for customers after login
No time consuming disassembly work to access the evaporator or parts of the vehicle interior. Reduces unpleasant odours with long-lasting fresh scent
User-friendly


Has a preventive effect against bacteria and fungi


Universal, flexible and mobile


No additional manual for specific work steps required


One Can = One application
Notice
Odour-neutral interiors and air-conditioning units can be achieved with preventive treatment. Remove excess substance with a damp cloth. No persons are allowed inside the vehicle during application. All electrical devices must be switched off during application. Avoid ignition sources. Before entering the vehicle, ventilate it thoroughly for several minutes. Do not smoke inside the vehicle straight after application. Use only one can per application.
The above application instructions are recommendations given on the basis of our own tests and experience. We recommend that you carry out your own tests before use. Due to the great variety of different applications and storage and processing conditions, we cannot guarantee a particular application result. We will not accept legal liability for any advice or technical information provided by our free customer hotline unless this advisory service and/or technical information is part of the contractually agreed performance owed by us, or the customer service employee acted willfully or intentionally. We guarantee the consistent quality of our products and reserve the right to make technical changes and improvements.
Instructions
Shake can well before use. Switch off the air conditioner, switch on circulating mode, set ventilation at maximum and select a cold temperature level for the interior. Position the can centrally in the centre console and activate the spray head. Keep doors and windows closed during application (approx.10 min.). Ventilate the vehicle well after use and wipe of any residue immediately using a damp cloth. DO NOT PLACE IN FOOTWELL. Observe the information below!
Select RAL-colour code
!! NOTE: On-screen visualisation of the colour differs from real colour shade!!