Netbiokem DSAM Commercial Grade Disinfectant Cleaner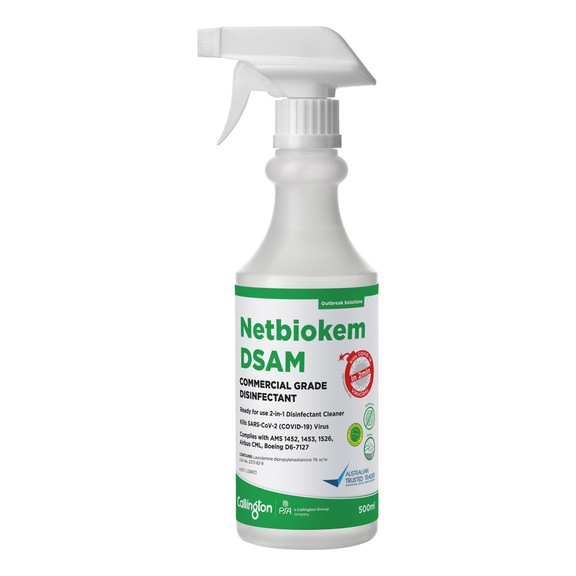 For detailed information, other images and documents, please select individual articles from the following table.
Netbiokem DSAM Commercial Grade Disinfectant Cleaner
Commercial Grade Disinfectant Cleaner For All Hard Surfaces
Exclusively for registered customers
Register now and access more than 20,000 products
Call customer service: 1300 65 77 65
Exclusively for registered customers
Register now and access more than 20,000 products
Call customer service: 1300 65 77 65
Prices for customers after login
Kills SARS-CoV-2 (COVID-19 virus) in dirty conditions within two minutes


Ready to use 2-in-1 solution, eliminating the need for pre-clean process


It provides broad-spectrum disinfection in industrial, institutional, healthcare and household settings


Will not harm or damage fabrics, plastic, metals, rubber, or other surfaces. It has been tested against relevant aviation material standards.


Non-flammable and non-toxic formulation


Demonstrated efficacy against mould species.
Notice
Hard surface disinfectant only. Use undiluted. Do not mix with detergents or other chemicals. Not to be used on the skin. Not to be used on medical devices or other therapeutic goods.
Australian TGA Approved for COVID-19 claim (ARTG No. 336972)


Conforms to Virucidal Effectiveness European Standard EN 14476


AIRBUS CML-14-006C, CML 12-012A,


AMS 1526, AMS 1452, AMS 1453, Boeing D6-7127M


CFM 56 – CP2712


NATO Stock No: 6840-14-5994327
Application area
Suitable for all transport, commercial, industrial, institutional, health services, military, and any essential services industry


Complies with Aviation material standards
Instructions
Spray:
Spray only enough Netbiokem DSAM to just cover the surface. Do not over-wet. Allow up to 2 minutes of contact time for disinfection and wipe the surface with a clean dry lint-free cloth. No need to rinse. For heavily soiled surfaces, a second application may be required. For food contact surfaces, rinse and dry afterward. Use biocides with caution. Read the label before use.
Liquid/Wipe:
Apply Netbiokem DSAM liquid onto the wipe material until wet. Wipe and leave for up to 2 minutes to ensure complete disinfection. Wipe the surface, with a clean dry lint-free cloth. It is recommended to also rinse and dry if the surfaces are in contact with food.
Fog:
All fog treatments must be carried out in empty premises/areas with any air conditioning and recirculation systems switched off. Ensure all external doors are closed and any internal doors and small space closures are open.
The positioning of static fogging equipment or movement of portable fogging equipment must be carried out to achieve a minimum dosage rate of 8mL/m3. Fogging applications must use the minimum amount of products and should not produce any pools or drips. If this is happening then the product is being over-used and must be immediately wiped dry.
The target particle size can range between 10µm - 50µm however for optimal performance we recommend a range between 20µm - 30µm with fogging application.
Consult the Safety Data Sheet for full safety instructions. Refer to Netbiokem DSAM Technical Application Spec Sheet for further instructions.
Treatment Of Mould:
Mould will develop over time in closed areas and workplaces where there is little to no airflow, and condensation caused by heating and cooling (refer to WHO guidelines for indoor air quality: dampness and mold). Parked aircraft and closed workplaces are common environments where this will happen.
The mould that is of concern for human health is the Aspergillus species. Netbiokem DSAM has demonstrated efficacy against the species Aspergillus niger, and it is highly recommended to regularly treat all porous or semi-porous surfaces where mould spores and water can congregate with Netbiokem DSAM, either by fogging or by spot treatment as appropriate.
Select RAL-colour code
!! NOTE: On-screen visualisation of the colour differs from real colour shade!!