Hydraulic Terminal Crimp Tool Kit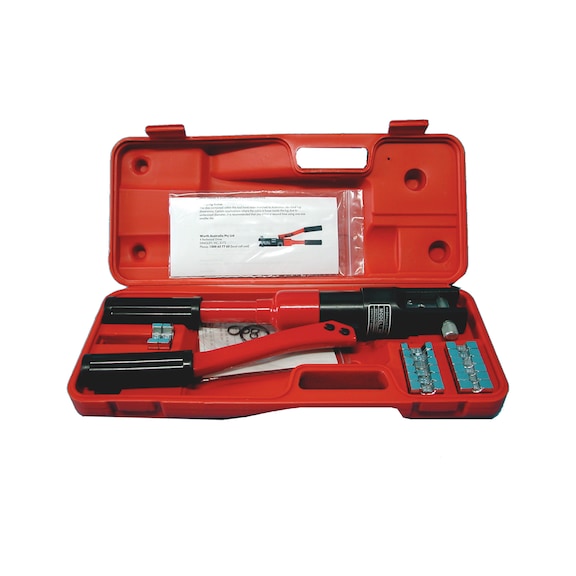 For detailed information, other images and documents, please select individual articles from the following table.
Hydraulic Terminal Crimp Tool Kit
Hydraulic press tool for firmly crimping copper cable lugs.
Exclusively for registered customers
Register now and access more than 20,000 products
Call customer service: 1300 65 77 65
Exclusively for registered customers
Register now and access more than 20,000 products
Call customer service: 1300 65 77 65
Prices for customers after login
Accurate and consistent crimp quality every time.


Hydraulic actuator ensures maximum crimp pressure with minimal effort.


Crimp dies are clearly marked for easy identification.


Internal I.D. on each crimp die stamps an impression of the size into the terminal body during crimping.


Simple instructions are included with each kit.


Hexagonal crimp pattern for maximum security.


Includes 8 x crimp dies from 10 mm2 to 120 mm2 (10, 16, 25, 35, 50, 70, 95, 120 mm2).
Notice
Never use without dies as this will damage the tool and instantly void warrantee.
Application area
Suitable for battery cable terminal fitting.
Instructions
1. Slide back die retaining bolt which is located at the top of the tool.
2. Insert the set of dies you intend to crimp with and return the retaining bolt.
3. Turn the valve screw to the on position. (located on the side of the handle).
4. Pumping the handle will move the dies together.
5. Your crimp is complete when the tool releases its internal pressure. A clicking sound will be heard. Turn the valve release knob to off and the tool will open releasing the die.
Rotating Head
In order to make crimping easier, the head can be rotated. Simply turn the top of the tool and it will independently swivel from the handle.
Maintenance
When not using the tool please keep the operating valve in to OFF position. Keep the tool in its case. If you are not going to use it for a while it is advisable to coat the tool and the dies with Rust remover Rost-Off Plus Art. No. 0890200 to protect it from moisture.
Oil
After prolonged long term use the oil may need to be topped up or replaced. To do this twist the lower handle anti clockwise and remove it from the head. Undo the cap at the top of the bladder and top up the oil if necessar. Make sure that you remove excess oil and that the job is done in a clean environment. Use only oil which has been clean filtered to B200 mesh net. (Hydraulic fluid #32)
Crimping Notes
The dies contained within this tool have been matched to Australian standard lug dimensions. Certain applications where the cable is loose inside the lug due to undersized diameter, it is recommended that you crimp a second time using one size smaller die.
Select RAL-colour code
!! NOTE: On-screen visualisation of the colour differs from real colour shade!!