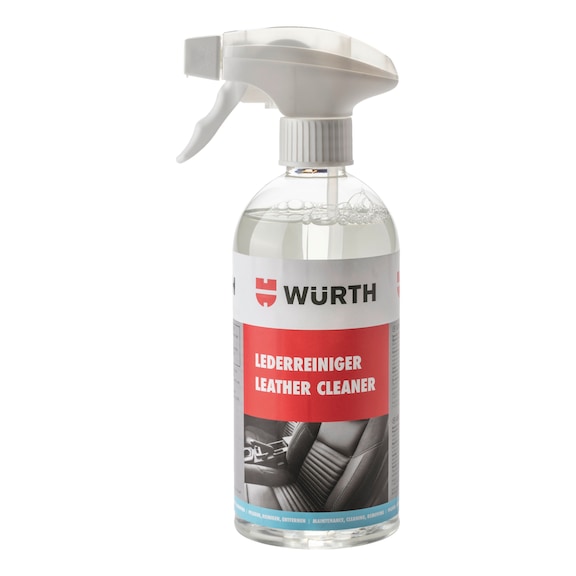 For detailed information, other images and documents, please select individual articles from the following table.
Special cleaner with a surfactant and solvent base for smooth leather and Alcantara
Exclusively for registered customers
Register now and access more than 20,000 products
Call customer service: 1300 65 77 65
Exclusively for registered customers
Register now and access more than 20,000 products
Call customer service: 1300 65 77 65
Prices for customers after login
Gently removes stubborn dirt
such as mustard, ketchup, chocolate, sun cream, shoe polish, textile dyes, etc.
Cleans and maintains the leather
Brings the suppleness back to your leather products, refreshes the surfaces and restores colour radiance.


Suitable for all colours


Maintains the leather's high-quality appearance for longer
Foam application does not "saturate" the leather
Very easy to use
Phosphate and silicon-free
Notice
Check the colour fastness/material compatibility in an inconspicuous spot before use. Not suitable for suede. After cleaning, treat with a leather care product (not for Alcantara surfaces!).
The usage instructions are recommendations based on the tests we have conducted and on our experience; carry out your own tests before each application. Due to the large number of applications and storage and processing conditions, we do not assume any liability for a specific application result. Insofar as our free customer service provides technical information or acts as an advisory service, no responsibility is assumed by the provision of this service except where the advice or information given falls within the scope of our specified, contractually agreed service or the advisor was acting deliberately. We guarantee the consistent quality of our products. We reserve the right to make technical changes and further develop products.
Application area
For all true-colour smooth leather and Alcantara surfaces. Also suitable for use on adjacent surfaces such as wood, metal or plastic (interior door panels, cockpit, steering wheel, etc.). Ideal for cleaning handbags, shoes, clothes, furniture made of smooth leather.
Instructions
Remove dust and coarse dirt with a vacuum cleaner.
Spray the cleaning solution onto a soft brush or sponge and apply to the surface being cleaned. Max. one minute.
Then remove the softened dirt from the surface by brushing or wiping gently, without rubbing it into the leather or Alcantara.
Then wipe the smooth leather with a damp cloth and rub dry with a soft microfibre cloth.


Remove the dissolved dirt and detergent residue from the Alcantara surface, ideally with a spray extraction device and distilled water.
Select RAL-colour code
!! NOTE: On-screen visualisation of the colour differs from real colour shade!!