PU Coiled compressed-air spiral hose sets 1500 Series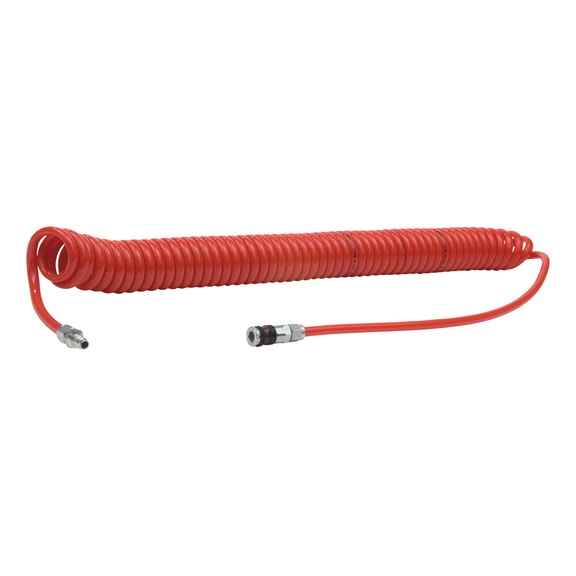 For detailed information, other images and documents, please select individual articles from the following table.
PU Coiled compressed-air spiral hose sets 1500 Series
Complete and Ready to use set with plug-in nipple and quick-action coupling.
Outer diameter of hose: 10 mm
Inner hose diameter: 6.5 mm
Diameter: 52 mm
Length (elongated state): 5 m
Working length: 4 m
Max. working pressure: 10 bar
Product weight (per item): 423 g
Exclusively for registered customers
Register now and access more than 15,000 products
Call customer service: 1300 65 77 65
Variants
Packaging unit
The packaging unit defines the number of articles in one packaging. In the catalog segment you can choose from different packaging units if a pop-up menu is displayed.
Just leave the field empty if you don't know the packaging unit when directly entering the article number in the shopping basket or when importing with Easy-/VarioScan. The packaging unit will be determined automatically.
Structure of our article number
The article number is made up of the following: VVVVAAABBB
VVVV = 4 digits for prefix number (please note that the first digit is currently always 0)
AAA = 3 digits for dimension part 1
BBB = 3 digits for dimension part 2
Example article number structures:
Example 1: Screw with dimensions of 4x10 mm:
VVVVAAABBB
00574 10 (2 spaces between the 4 and the 10)
Example 2: Screw with dimensions of 10x20 mm:
VVVVAAABBB
005710 20 (1 space between the 10 and the 20)
Example 3: Flat washer with an internal diameter of 6 mm:
VVVVAAABBB
04076
Information on price display
Price per packaging unit (PU):
The displayed price is always in line with the displayed packaging, if the PU is 250 the price for 250 units, if the PU is 300 the price for 300 units.
Price with price key representation (PSL):
The price always applies to a quantity ruled through the price key:
Price for 1 unit
Price for 100 units
Price for 1000 units
Quantity
The quantity shows the number of pieces or units of measure contained in the order or delivery for the respective article.
In contrast to sales packaging and secondary packaging, the disposal costs for chemical-technical products are shown separately. The breakdown of the individual costs can be found on the relevant products and also in the shopping cart, as well as in our
General Terms and Conditions (GTC)
.
Art.-no.
Plus disposal costs -,-- per selected packing unit
Cust. Mat. No.
Exclusively for registered customers
Register now and access more than 15,000 products
Call customer service: 1300 65 77 65
Prices for customers after login
High flow capacity
Coupling allows a 1500 liters/minute flow (53 cubic feet/minute).


The smooth inner wall of the hose avoids resistance to air and allow a high airflow.
High safety factor for user
Maximum operating pressure of 10 bar (145 psi).
Strong and durable
Outer coating: high resistance to UV rays and, above all, to oil, solvents and other non-aqueous solutions.


Inner structure: Sturdy fabric reinforcement.
Greater comfort during work
One hand operation: straight end simplifies work (quicker coupling).
Better cost x benefit
Lighter, more flexible and more resistant to torsion than PVC hoses.
Notice
Always be aware of the maximum working pressure of the hose. Using hoses not suitable for compressed air can cause accidents. We recommend a minimum working pressure of 300 psi.


The recommended working pressure for pneumatic tools is 90 psi.


The use of a filter regulator is important in order to remove possible contaminants from the compressed air stream as well maintains the correct pressure levels.
Application area
Professional use in mechanical and tire workshops, bodyshops, metalworking and carpentry.
Select RAL-colour code
!! NOTE: On-screen visualisation of the colour differs from real colour shade!!