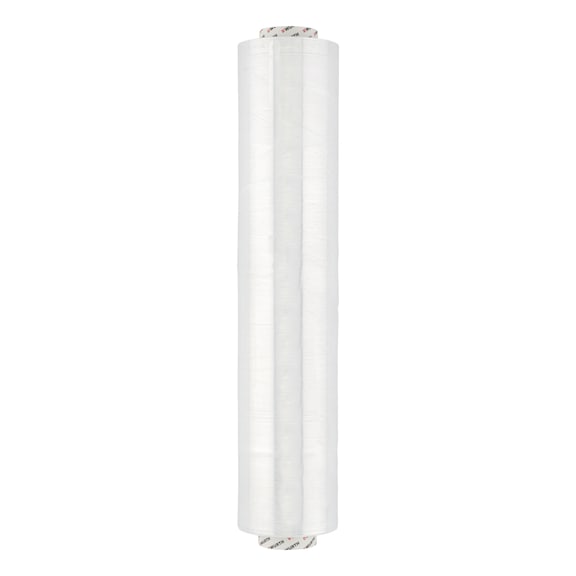 The images are examples. For detailed information, other images and documents, please select individual articles from the following table.
For fast packing without cutting or adhesive residues
Material: PE - Polyethylene
Conditions for pressing pressure: with eight wrappings
Max. temperature resistance: 50 °C
Chemical resistance: Application-dependent, query required
Shelf life from production: 24 Month
Conditions to maintain shelf life from production: dry storage area, 20°C
Exclusively for registered customers
Register now and access more than 20,000 products
Call customer service: 1300 65 77 65
Variants
Packaging unit
The packaging unit defines the number of articles in one packaging. In the catalog segment you can choose from different packaging units if a pop-up menu is displayed.
Just leave the field empty if you don't know the packaging unit when directly entering the article number in the shopping basket or when importing with Easy-/VarioScan. The packaging unit will be determined automatically.
Structure of our article number
The article number is made up of the following: VVVVAAABBB
VVVV = 4 digits for prefix number (please note that the first digit is currently always 0)
AAA = 3 digits for dimension part 1
BBB = 3 digits for dimension part 2
Example article number structures:
Example 1: Screw with dimensions of 4x10 mm:
VVVVAAABBB
00574 10 (2 spaces between the 4 and the 10)
Example 2: Screw with dimensions of 10x20 mm:
VVVVAAABBB
005710 20 (1 space between the 10 and the 20)
Example 3: Flat washer with an internal diameter of 6 mm:
VVVVAAABBB
04076
Information on price display
Price per packaging unit (PU):
The displayed price is always in line with the displayed packaging, if the PU is 250 the price for 250 units, if the PU is 300 the price for 300 units.
Price with price key representation (PSL):
The price always applies to a quantity ruled through the price key:
Price for 1 unit
Price for 100 units
Price for 1000 units
Quantity
The quantity shows the number of pieces or units of measure contained in the order or delivery for the respective article.
In contrast to sales packaging and secondary packaging, the disposal costs for chemical-technical products are shown separately. The breakdown of the individual costs can be found on the relevant products and also in the shopping cart, as well as in our
General Terms and Conditions (GTC)
.
Art.-no.
Plus disposal costs -,-- per selected packing unit
Cust. Mat. No.
Exclusively for registered customers
Register now and access more than 20,000 products
Call customer service: 1300 65 77 65
Prices for customers after login
When removing film from the product, no adhesive residues are left behind


Corners, edges and curves etc. can also be packaged and/or protected quickly and reliably with the film. This also means considerable time is saved.


The film can easily be torn off by dragging on the protruding section of the winding core. As a result, no extra cutting tools are required to cut the film.


Recyclable PE film
Notice
A different handle must be used for the 500 mm film than for the 100 mm film.
Application area
For packing, bundling, protecting, securing, safeguarding load units and as moisture and theft protection. Universal usage for a wide variety of packaging goods such as packages, pallets, wood and plastic profiles, carpet rolls, picture frames, other long goods etc. Packfix has also proven its worth in relocation applications such as for sealing cartons, protecting furniture pieces and securing drawers against opening. Packfix 100 mm is also particularly suitable for steering wheel protection in the automotive industry
Instructions
Please refer to the technical data sheet for information on correct application.
When securing pallets with Packfix for load units, it is essential to pay attention to the foot windings. A good connection between the load carrier and packing material is essential for good load unit securing.
Select RAL-colour code
!! NOTE: On-screen visualisation of the colour differs from real colour shade!!