Plug-in connector, wood/wood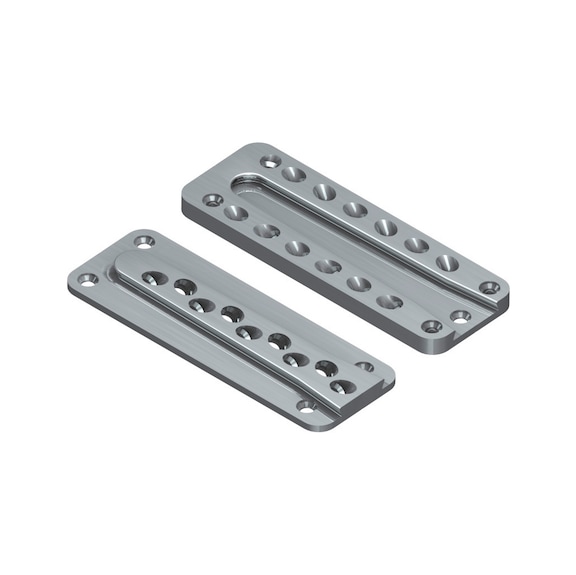 For detailed information, other images and documents, please select individual articles from the following table.
Plug-in connector, wood/wood
Ideal for concealed or visible connections, the plug-in connectors enable a high degree of pre-fabrication and hence a considerable reduction in assembly times
Exclusively for registered customers
Register now and access more than 20,000 products
Call customer service: 1300 65 77 65

Exclusively for registered customers
Register now and access more than 20,000 products
Call customer service: 1300 65 77 65
Prices for customers after login
The plug-in connectors each consist of two aluminium parts that can be joined for a form-fitting connection based on a classic dovetail joint. They have applications in a wide variety of areas. From timber constructions, furniture-making and interior fitting to wall, roof and ceiling solutions, everything is possible.
Rapid assembly of load-bearing wood/wood connections


Significant reduction in assembly time due to high degree of pre-fabrication


Multiple dimensions for tailor-made and reliable solutions


Simple, continuous mounting system with identical edge clearances and non-aligned screws to maintain strength


High load transfer in and perpendicular to the direction of insertion, tension, compression and torque load transfers around all three axes


Suitable for fire protection requirements R30 and R60
Notice
The required wood dimensions can be found in the table below. The recommended cutting depth for the XS–M series should be at least 1 mm less deep than the total thickness of both plates together, and at least 3 mm less deep for the L–XXL series. Please note that longer bolts should be screwed into the end grain.
Depending on the connector type, the appropriate type of special system screws should be used as per ETA-12/0067 approval in order to guarantee the specified characteristic load-bearing values.
Two connector plates can be secured against lifting (if required) through the use of self-tapping, locking system screws.
European Technical Assessment ETA-12/0067
Compatible with Special Sytems Screw range 0681 352 ...
Application area
Load-bearing connections can be mounted easily and quickly. The different dimensions allow tailor-made, reliable solutions for all purposes. Areas of application:
Timber engineering


Carports


Furniture construction


Staircase construction


Winter gardens
Select RAL-colour code
!! NOTE: On-screen visualisation of the colour differs from real colour shade!!