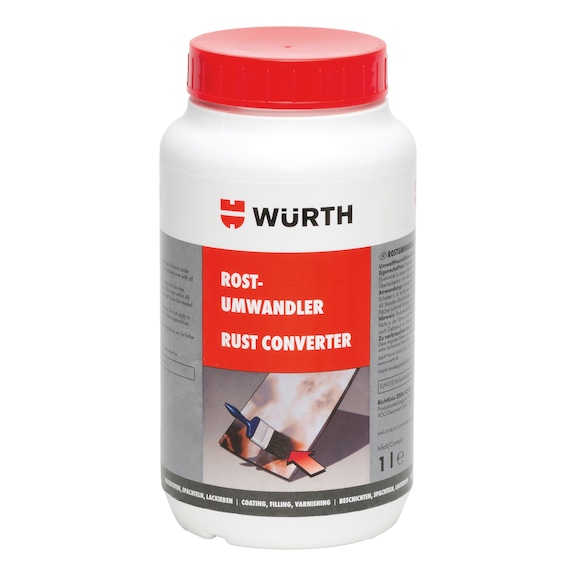 For detailed information, other images and documents, please select individual articles from the following table.
Environmentally friendly dispersion-based rust converter
Exclusively for registered customers
Register now and access more than 20,000 products
Call customer service: 1300 65 77 65
Exclusively for registered customers
Register now and access more than 20,000 products
Call customer service: 1300 65 77 65
Prices for customers after login
Can be painted over
Can be painted over with all commercially available top-coat paint systems after 3 hours
Can be filled
Environmentally friendly, as dispersion-based
Reliably stops the corrosion process and provides an optimised application surface for additional paint work.
Rust converter penetrates into the rust, reacts with the rust and converts iron oxide into a stable, insoluble, blue-black, metal-organic complex.
Notice
Do not wash treated surfaces with water. Immediately wash the rust converter off painted surfaces. Do not use in direct sunlight, on hot surfaces over +40°C and when there is risk of frost. Protect from frost. Clean the equipment with water after use.
The usage instructions are recommendations based on the tests we have conducted and our experience; carry out your own tests before each application. Due to the large number of applications and storage and processing conditions, we do not assume any liability for a specific application result. Insofar as our free customer service provides technical information or acts as an advisory service, no responsibility is assumed by this service except where the advice or information given falls within the scope of our specified, contractually agreed service or the advisor was acting deliberately. We guarantee consistent quality of our products. We reserve the right to make technical changes and further develop products.
Always decant liquid converter into a non-metallic container. Never place used brush into original container. Do not allow the converter to drip, as it will stain concrete.
Application area
Vehicle construction, caravan construction, shipbuilding, metal and steel construction, tool manufacturing, bridge building, tank construction, pipeline construction, container construction, agriculture and forestry, municipal management, construction machinery etc.
Instructions
The surface must be clean, dry and free from grease. Remove loose rust, paint and dirt using a wire brush, scraper or similar tool. Apply a thin and even coat with a brush or roller. Prevent runs. Paint over with water or solvent-based metal protective coatings between 3 and 48 hours after application. Maintain a three-hour reaction time. Mask off surfaces not to be treated.
Select RAL-colour code
!! NOTE: On-screen visualisation of the colour differs from real colour shade!!