Screw and bearing locking DOS rail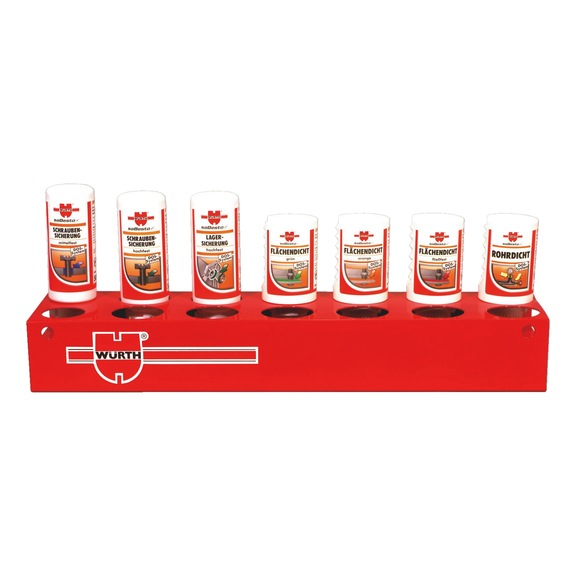 For detailed information, other images and documents, please select individual articles from the following table.
Screw and bearing locking DOS rail
All related anaerobic products for the sector ready to hand in one rail. Ideal for the sanitary and electrics industries, for metalworking and woodwork workshops and the construction industry.
Exclusively for registered customers
Register now and access more than 20,000 products
Call customer service: 1300 65 77 65
Exclusively for registered customers
Register now and access more than 20,000 products
Call customer service: 1300 65 77 65
Prices for customers after login
Clearly laid-out and orderly storage through use of storage rack
No time-consuming searches required. Quick overview of available materials.
DOS system
Practical one-handed use thanks to the clever turn lock.
You always have one hand free
Dispensing head with self-cleaning closure system.
No residue material in dispensing neck
Continuously adjustable dispensing system.
Dispensing can be adjusted to suit the application, and to keep consumption and costs to a minimum
Bellows-type bottle for high-viscosity materials.
Costs optimised thanks to emptying with virtually no remaining product
Notice
These products are exempt from mandatory warning symbols.
The material is applied in liquid form directly to the parts and then hardens into a toughened plastic after installation. It completely fills the gaps so that the resulting bonding provides excellent protection against corrosion from friction and protection against rust. A complete seal is achieved.
Caution:
The following plastics can be affected in the event of longer exposure: ABS, celluloid, polystyrene, polycarbonate (Macrolon), PMMA (Plexiglas), polysulfone, SAN (lurane, Tyril), Vinidur, vulcan fibre and painted surfaces. We always recommend that you conduct your own tests.
The above application instructions are recommendations given on the basis of our own tests and experience. We recommend that you carry out your own tests before use. Due to the great variety of different applications and storage and processing conditions, we cannot guarantee a particular application result. We will not accept legal liability for any advice or technical information provided by our free customer hotline unless this advisory service and/or technical information is part of the contractually agreed performance owed by us, or the customer service employee acted willfully or intentionally. We guarantee the consistent quality of our products and reserve the right to make technical changes and improvements.
Application area
For securing, fastening and sealing bolts, stud bolts, nuts, thread inserts and threaded plugs, all of which do not normally have to be detached.
Instructions
The material is applied evenly and in liquid form directly to the oil-, grease- and dust-free surface


The cleaner the surface, the more secure the bonding


These adhesives harden anaerobically, which means that they only harden where no atmospheric oxygen comes into contact with the adhesive
For this reason, the containers are also only filled to approx. 3/4 full
At the same time, the hardening speed is still being influenced by the catalytic effect of metal and the gap width


The more "passive" the material and the thicker the gap, the slower the material hardens


Passive materials: Nickel, zinc, tin, precious metals, aluminium with minimal copper and/or manganese content, highly alloyed steel, oxide or chromate coats, plastic, glass and ceramic


Active materials: Steel, brass, bronze, copper, aluminium (copper content greater than 1%)
For cleaning and degreasing, we recommend brake cleaner.
Select RAL-colour code
!! NOTE: On-screen visualisation of the colour differs from real colour shade!!