Window adhesive EXPERT MS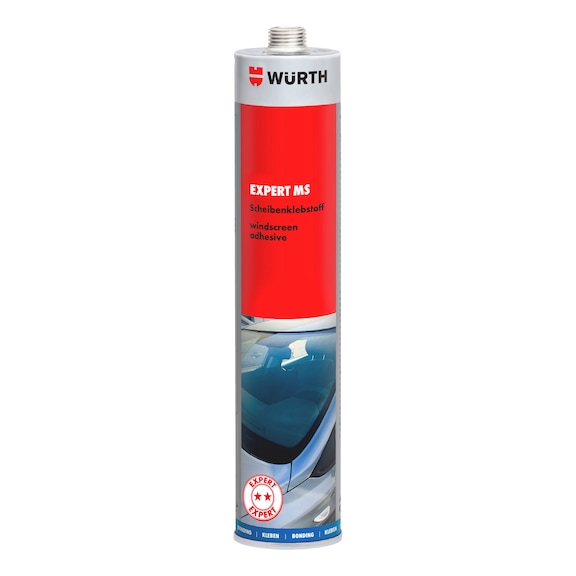 For detailed information, other images and documents, please select individual articles from the following table.
Window adhesive EXPERT MS
Fast-curing, highly modular, non-conductive 1-component MS polymer adhesive for windscreens
Exclusively for registered customers
Register now and access more than 20,000 products
Call customer service: 1300 65 77 65
Exclusively for registered customers
Register now and access more than 20,000 products
Call customer service: 1300 65 77 65
Prices for customers after login
Can be used at any time of the year
Can be driven after 1 hour with airbag
Safety tested
Drive-away time confirmed with crash test and TÜV certificate in accordance with FMVSS212
UV and weather resistance
Can be used without primer
Can be applied to most substrates without primer
Additional features
Not conductive


Suitable for vehicles with aerials.


Resistant to UV and ageing
Notice
The Wurth active cleaner must be used for surface preparation. Do not position the vehicle on a lifting platform or hoist. Apply the adhesive while holding the gun vertically, starting in the middle of the bottom edge of the window. Please note the vehicle manufacturer's specifications regarding bead geometry. The application and drive-away times must be observed. The application information is recommended based on our tests and experience; you must perform your own tests before each application. Due to the large number of applications, storage and processing conditions, we do not assume any liability for a specific application result. Insofar as our free customer service team provides technical information or acts as a consultancy service, no responsibility is taken by this service, except where the advice or information falls within the scope of our specified, contractually agreed service or the advisor has acted intentionally. We guarantee consistent quality of our products. We reserve the right to make technical changes and carry out further development.
Application area
Replacement glazing within passenger and commercial vehicles. Can also be used for other elastic bonds.
Instructions
When applying the material, ensure a clean working environment. For proper and correct operation, it is essential that the product is used with the associated Würth system components. The work instructions provided with the product are to be observed during application.
Select RAL-colour code
!! NOTE: On-screen visualisation of the colour differs from real colour shade!!